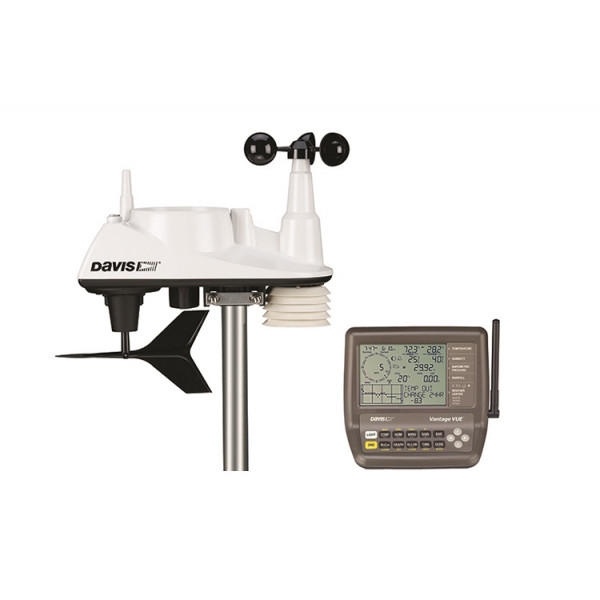 Vantage Vue Weather Station

€509.00

(tax incl.)

(€424.17 VAT excl.)
Delivery in 1 to 5 days in Europa
Complete weather station from Davis Instruments, ideal for the hobbyist world. All sensors are combined into one unit for easy installation. Wireless link between the sensors and the console with a maximum distance of 300m between the two.
Davis Instruments complete weather station, Vantage Vue part number 6250EU.
The link between the outdoor sensors (ISS) and the console is via radio waves on the 868.0 - 868.6 MHz frequency with a range of 300 meters at sight. The console is equipped with a large backlit LCD display and can be mounted on a wall or placed on a table or shelf. The console allows you to view real-time weather conditions, extremes (max and min), graphs corresponding to the different variables... It is also possible to set alarms and to connect the console to a computer (with the WeatherLink datalogger not supplied).
The ISS is very robust and can be installed on a mast (tube). A dual sensor for measuring outdoor temperature and humidity is placed in a solar radiation shelter. The rain gauge is equipped with a tipping bucket system to measure precipitation. The wind vane anemometer cannot be disconnected from the ISS.
The Davis Instruments Vantage Vue 6250EU weather station comes with:
An LCD console and power supply.
Outdoor sensor suite (ISS).
A mounting kit.
An instruction manual.
And allows to measure:
Indoor temperature - Resolution 0.1°C.
Outdoor temperature - Resolution 0.1°C.
Indoor humidity - Resolution: 1%.
Outdoor humidity - Resolution: 1%.
Atmospheric pressure - Resolution: 0.1 hPa.
Heat index - Resolution 1°C.
Dew point - Resolution 1°C.
Precipitation - Resolution 0.25 mm.
Feeling temperature - Resolution 1°C.
Wind speed from 3 to 241 Km/h - Resolution 1 Km/h.
Wind direction - Resolution 1°.
Miscellaneous

Size

45.7 x 18.4 x 38.4 cm

Weight

3.04 kg

Warranty

2 ans

Radio frequency

868.0 - 868.6 MHz FHSS, inférieur à 8mW

Wireless range

300m à vue, 60 à 120m avec des obstacles

Wind

Units of measurement

mph, km/h, m/s, Nœud

Resolution

1 mph, 1 km/h, 0.5 m/s, ou 1 Nœud

Accuracy

±3 km/h

Measuring range

0 à 322 km/h

Measurement frequency

2.5 à 3 secondes

Measurement principle

Godets à vent, capteur à effet Hall

Wind direction

Resolution

16 points (22,5°) sur la rose des vents, 1° à affichage numérique

Accuracy

±3°

Measuring range

0 à 360°

Measurement frequency

2.5 à 3 secondes

Measurement principle

Girouette avec potentiomètre

Atmospheric pressure

Units of measurement

in Hg, mm Hg, hPa/mb

Resolution

0.01in Hg, 0.1 mm Hg, 0.1 hPa/mb

Accuracy

±1.0 hPa

Measuring range

540 à 1100 hPa

Measurement frequency

1 minute

Outside temperature

Units of measurement

°C ou °F

Resolution

0.1

Accuracy

±0.5°C

Measuring range

-40°C à 65°C

Measurement frequency

10 à 12 secondes

Measurement principle

Diode à jonction PN de silicone

Windchill

Resolution

1

Accuracy

±1

Measurement frequency

10 à 12 secondes

Measurement principle

Calcul, formule de Osczevski (1995)

Inside temperature

Units of measurement

°C ou °F

Resolution

0.1

Accuracy

±0.5°C

Measuring range

0 à 60°C

Measurement frequency

1 minute

Receiving console

Composition

plastique ABS résistant aux UV

Measure

Temperature ; Humidity ; Atmospheric pressure

Power supply

Adaptateur secteur AC, 5 VDC, 300 mA, réglementé

Size

190 x 146 x 114 mm

Weight

0.67 kg

Power supply autonomy

9 mois (approximativement)

Operating temperature

0 à 60°C

Current consumption

0,9 mA en moyenne, 30 mA en crête, (ajoutez 120 mA pour les lampes d'affichage, ajoutez 0,125 mA pour chaque émetteur sans fil optionnel reçu par la console) à 4 - 6 VDC

Backup power supply

3 piles LR14 (non fournies)

Display

LCD, rétroéclairable

Integrated Sensor Suite (ISS)

Composition

plastiques ABS et ASA résistants aux UV

Measure

Temperature ; Humidity ; Wind speed ; Wind direction ; Rainfall ; Windchill ; Wind gusts

Power supply

panneau solaire, accumulateur 10F, pile de secours

Power supply autonomy

8 mois sans ensoleillement, plus de 2 ans en fonction de l'ensoleillement

Operating temperature

-40 à 65°C

Current consumption

0.20 mA (moyenne), 30 mA (pic) à 3.3 VDC

Backup power supply

pile Lithium 3V CR123 (non fournie)

Outdoor humidity

Units of measurement

% HR

Resolution

1%

Accuracy

±2%

Measuring range

1 à 100% RH

Measurement frequency

50 secondes à 1 minute

Measurement principle

Condensateur à film

Drift

inférieur à 0.25% par an

Rainfall

Units of measurement

mm ou pouces

Resolution

0.2 mm ou 0.01in

Accuracy

Pour les intensités de pluie jusqu'à 250 mm/h : ±4% du total ou ±0.2 mm au plus

Measurement frequency

20 à 24 secondes

Measurement principle

Auget basculant

Rain receiving surface

116 cm2

Rainfall rate

Units of measurement

mm/h ou in/h

Resolution

0.1 mm ou 0.01 in/h

Accuracy

±5% pour les intensités inférieures à 250 mm/h

Measuring range

0 à 762 mm/h

Measurement frequency

20 à 24 secondes

Indoor humidity

Units of measurement

% HR

Resolution

1 % HR

Accuracy

±2%

Measuring range

1 à 100% HR

Measurement frequency

1 minute

Dew point

Units of measurement

°C ou °F

Resolution

1

Accuracy

±1.5°C

Measuring range

-76° à 54°C

Measurement frequency

10 à 12 secondes

Measurement principle

L'équation de l'OMM à l'égard de la saturation de l'air humide sur l'eau
You might also like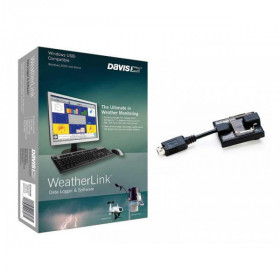 €239.00
(€199.17 VAT excl.)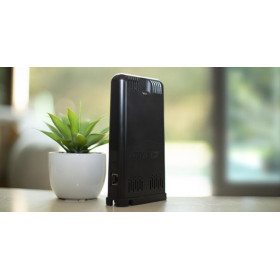 €329.00
(€274.17 VAT excl.)
10 other products in the same category: