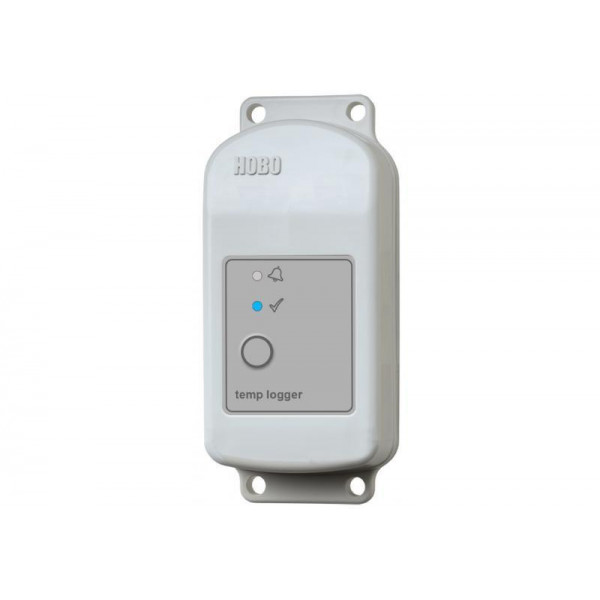 Waterproof temperature logger Bluetooth

€203.00

(tax incl.)

(€169.17 VAT excl.)
Enregistreur de température waterproof
L'enregistreur MX2304 permet de mesurer et d'enregistrer la température. Il exploite la technologie Bluetooth Low Energy afin de fournir des mesures de température de haute précision directement téléchargeables de façon simple sur votre smartphone (IOS ou Android). Cet appareil est résistant aux intempéries et est waterproof.
Caractéristiques principales : 
Configuration sans fil pratique et téléchargement via Bluetooth Low Energy (BLE)
Récupération des données possible dans des endroits difficiles à atteindre. 
Les alarmes visuelles vous avertissent des conditions hors plage.
Boîtier compact et résistant aux intempéries avec montage intégré.
Visualisez les données actuelles en temps réel avec l'application HOBOmobile gratuite d'Onset.
Partagez facilement les données téléchargées depuis votre appareil mobile. 
Précision de +/- 0.2°C et +/- 2.5% HR
Cet enregistreur de données fonctionne dans un environnement extérieur
L'enregistreur HOBO MX2205 prend en charge les mesures suivantes : température
Caractéristiques techniques
Le pays d'origine de ce produit est les États-Unis. Si vous souhaitez visualiser l'ensemble des spécifications pour ce produit,
merci de vous référer directement à la notice technique.
Capteur de température MX2305
Gamme de températures : -40 à 70°C
Précision : +/- 0.25°C entre -40 et 0°C , +/- 0.2°C entre 0 et 70°C 
Résolution : 0.04°C 
Dérive : < 1% par an 
Temps de réponse : Température
- Sans abri anti-radiations : 17 min dans un circuit d'air à 1m/s
- Avec bouclier de rayonnement solaire RS1 / M-RSA : 24 minutes dans un circuit d'air à 1m/s
- Avec bouclier solaire RS3-B : N/A
Enregistreur : 
Puissance radio : 1 mW (0 dBm)
Plage de transmission : Environ 30.5 m de ligne visée
Norme de données sans fil : Bluetooth Smart (Bluetooth Low Energy, Bluetooth 4.0)
Plage de fonctionnement de l'enregistreur : -40 à 70°C dans l'air
Taux d'enregistrement : 1 seconde à 18 heures
Modes d'enregistrement : Intervalle fixe ou rafales
Modes de mémoire : Ecrasement des données quand l'enregistreur est plein, ou arrêt d'enregistrement
Modes de démarrage : Immédiat, bouton poussoir, date et heure ou intervalle suivant
Modes d'arrêt : Lorsque la mémoire est pleine, bouton-poussoir, date et heure ou après une période d'enregistrement définie 
Précision du temps : +/- 1 minute par mois entre 0 et 50°C
Batterie : 2/3 AA 3.6 Volt lithium, remplaçable
Vie de la baterie :

Généralement 2 ans avec intervalle d'enregistrement de 1 minute et le mode d'économie d'énergie désactivé
Généralement 5 ans avec intervalle d'enregistrement de 1 minute et le mode d'économie d'énergie activé. Des Intervalles d'enregistrement et d'échantillonages de statistiques plus rapides, l'enregistrement en rafale, le fait de rester connecté à l'application, des téléchargements excessifs et la pagination peuvent avoir une incidence sur la durée de vie de la batterie. 
Mémoire : 84 650 mesures maximum (128 Ko)

Téléchargement complet de la mémoire : Environ 60 secondes, possiblement plus si l'appareil est plus loin de l'enregistreur 
Matériaux mouillés : Acétal, joint silicone, vis en acier inoxydable
Dimensions :

Datalogger : 10.8 x 5.08 x 2.24 cm
Diamètre du capteur de température externe : 0.53 cm
Diamètre externe du capteur de température / HR : 1.17 cm
Longueur du câble du capteur externe : 2 m
Support de blindage solaire : 10.8 x 8.3 cm 

Poids :

Enregistreur : 75.5 g 
Support de protection solaire : 20.4 g

Matériaux : Acétal, joint silicone, vis en acier inoxydable 
Côte environnementale : NEMA 6 et IP67
Le marquage CE identifie ce produit comme étant conforme à toutes les directives pertinentes de l'Union européenne (UE). Cet équipement a été testé et déclaré conforme aux limites imposées aux appareils numériques de classe B, conformément à la partie 15 des règles de la FCC. 
Miscellaneous

Size

Weight
You might also like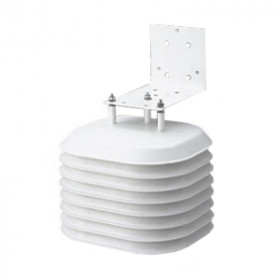 €89.00
(€74.17 VAT excl.)
10 other products in the same category:
No customer reviews for the moment.