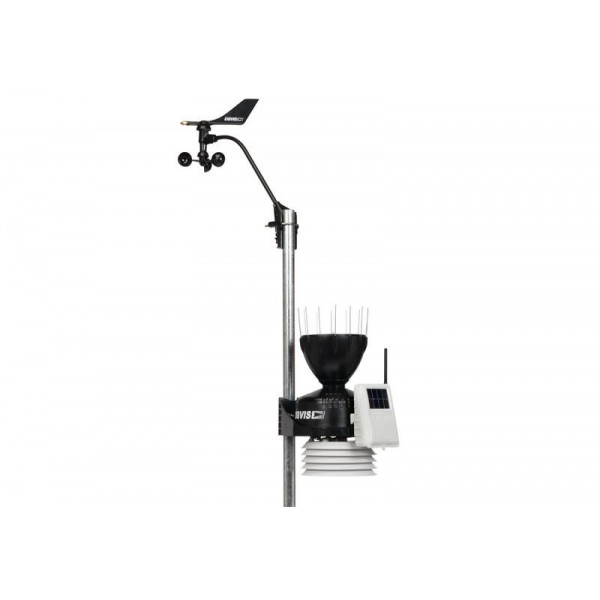 Wireless Sensor Suite for Vantage Pro 2

€649.00

(tax incl.)

(€540.83 VAT excl.)
Delivery in 1 to 5 days in Europa
Davis Instruments Vantage Pro 2 Weather Station Sensor Suite. Includes all outdoor sensors for the Vantage Pro 2 6152EU weather station.
Wireless Sensor Suite (ISS) for Davis Instruments Vantage Pro 2 Weather Stations, for use with the 6152EU. The link between the outdoor sensors (ISS) and the console is via radio waves on the 868.0 - 868.6 MHz frequency with a range of 300 meters at sight.
The ISS is very robust and can be installed on a mast (tube) or on a wooden pole. A dual sensor for measuring outdoor temperature and humidity is placed in a standardised radiation shelter. The aerodynamic rain gauge is equipped with a tilting bucket to measure precipitation and bird spikes. The wind vane anemometer can be detached from the ISS and installed on a roof, for example, thanks to its 12 metre cable.  
The 6322OV sensor suite is delivered with:  
An outdoor sensor suite (ISS).
An anemometer - wind vane with 12 metres of cable.
A mounting kit.
A user's manual.
Reviews about this product

Show attestation
Top quality, well-packaged material. (Translated review)

................................... (Translated review)
Miscellaneous

Size

445 x 264 x 406 mm

Weight

4.1 kg

Warranty

2 ans

Radio frequency

868.0 - 868.6 MHz FHSS, inférieur à 8mW

Wireless range

300m à vue, 60 à 120m avec des obstacles

Wind

Units of measurement

mph, km/h, m/s, Nœud

Resolution

1 mph, 1 km/h, 0.5 m/s, ou 1 Nœud

Accuracy

±3 km/h

Measuring range

3 à 290 km/h

Measurement frequency

2.5 à 3 secondes

Wiring

12m de longueur, max recommandé 165m

Measurement principle

Godets à vent, capteur à effet Hall

Wind direction

Resolution

16 points (22,5°) sur la rose des vents, 1° à affichage numérique

Accuracy

±3°

Measuring range

0 à 360°

Measurement frequency

2.5 à 3 secondes

Measurement principle

Girouette avec potentiomètre

Outside temperature

Units of measurement

°C ou °F

Resolution

0.1

Accuracy

±0.3°C

Measuring range

-40°C à 65°C

Measurement frequency

10 à 12 secondes

Measurement principle

PN junction silicon diode

Windchill

Resolution

1

Accuracy

±1

Measurement frequency

10 à 12 secondes

Measurement principle

Calcul, formule de Osczevski (1995)

Integrated Sensor Suite (ISS)

Composition

plastiques ABS et ASA résistants aux UV

Measure

Temperature ; Humidity ; Wind speed ; Wind direction ; Rainfall ; Windchill ; Wind gusts

Power supply

panneau solaire, accumulateur 10F, pile de secours

Power supply autonomy

8 mois sans ensoleillement, plus de 2 ans en fonction de l'ensoleillement

Operating temperature

-40 à 65°C

Current consumption

5 mA (en moyenne) de 4 à 6 VDC pour l'ISS seulement. 10 mA en moyenne entre la console et l'ISS

Backup power supply

pile Lithium 3V CR123 (non fournie)

Outdoor humidity

Units of measurement

% HR

Resolution

1%

Accuracy

±2%

Measuring range

1 à 100% RH

Measurement frequency

50 secondes à 1 minute

Measurement principle

Condensateur à film

Drift

inférieur à 0.25% par an

Rainfall

Units of measurement

mm ou pouces

Resolution

0.2 mm ou 0.01in

Accuracy

Pour les intensités de pluie jusqu'à 100 mm/h : ±3% du total ou +0.25 mm au plus

Measurement frequency

20 à 24 secondes

Measurement principle

Auget basculant

Rain receiving surface

214 cm2

Rainfall rate

Units of measurement

mm/h ou in/h

Resolution

0.1 mm ou 0.01 in/h

Accuracy

±5% pour les intensités inférieures à 250 mm/h

Measuring range

0 à 762 mm/h

Measurement frequency

20 à 24 secondes

Dew point

Units of measurement

°C ou °F

Resolution

1

Accuracy

±1.5°C

Measuring range

-76° à 54°C

Measurement frequency

10 à 12 secondes

Measurement principle

L'équation de l'OMM à l'égard de la saturation de l'air humide sur l'eau
You might also like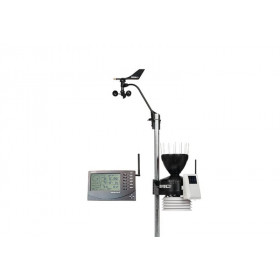 €899.00
(€749.17 VAT excl.)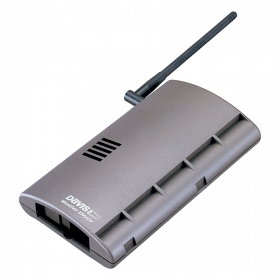 €249.00
(€207.50 VAT excl.)
10 other products in the same category: