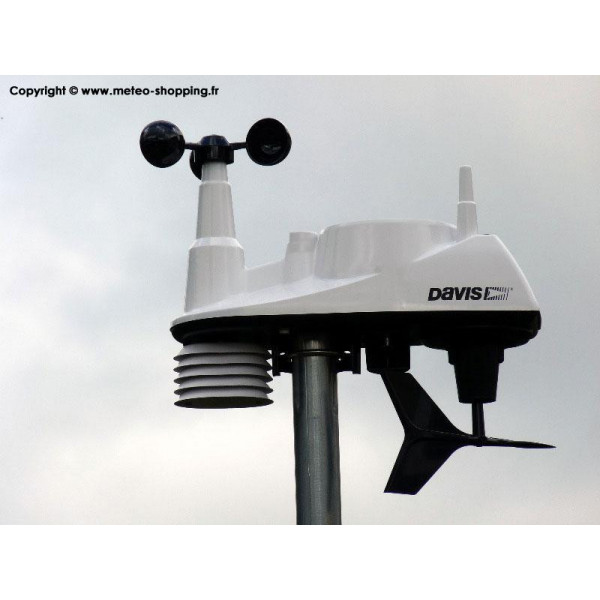 Sensor Suite for Vantage Vue

€369.00

(tax incl.)

(€307.50 VAT excl.)
Delivery in 1 to 5 days in Europa
Davis Instruments Vantage Vue Weather Station Sensor Suite. Includes all outdoor sensors for the Vantage Vue weather station without the receiver console. 
Sensor Suite (ISS) for the Davis Instruments Vantage Vue weather station. The ISS includes a dual thermometer/hygrometer sensor in a radiation shield, a rain gauge with a tipping bucket system, an anemometer, and a wind vane. All these sensors are combined in a single unit.
The sensor suite is delivered with a fixing kit.
Reviews about this product

Show attestation
Everything works perfectly. Quick installation. (Translated review)
Miscellaneous

Size

45.7 x 17.8 x 38.4 cm

Weight

2.04 kg

Warranty

2 ans

Radio frequency

868.0 - 868.6 MHz FHSS, inférieur à 8mW

Wireless range

300m à vue, 60 à 120m avec des obstacles

Wind

Units of measurement

mph, km/h, m/s, Nœud

Resolution

1 mph, 1 km/h, 0.5 m/s, ou 1 Nœud

Accuracy

±3 km/h

Measuring range

3 à 322 km/h

Measurement frequency

2.5 à 3 secondes

Measurement principle

Godets à vent, capteur à effet Hall

Wind direction

Resolution

16 points (22,5°) sur la rose des vents, 1° à affichage numérique

Accuracy

±3°

Measuring range

0 à 360°

Measurement frequency

2.5 à 3 secondes

Measurement principle

Girouette avec potentiomètre

Atmospheric pressure

Units of measurement

in Hg, mm Hg, hPa/mb

Resolution

0.01in Hg, 0.1 mm Hg, 0.1 hPa/mb

Accuracy

±1.0 hPa

Measuring range

540 à 1100 hPa

Measurement frequency

1 minute

Outside temperature

Units of measurement

°C ou °F

Resolution

0.1

Accuracy

±0.5°C

Measuring range

-40°C à 65°C

Measurement frequency

10 à 12 secondes

Measurement principle

PN junction silicon diode

Windchill

Resolution

1

Accuracy

±1

Measurement frequency

10 à 12 secondes

Measurement principle

Calcul, formule de Osczevski (1995)

Integrated Sensor Suite (ISS)

Composition

plastiques ABS et ASA résistants aux UV

Measure

Wind gusts ; Temperature ; Humidity ; Wind speed ; Wind direction ; Rainfall ; Windchill

Power supply

panneau solaire, accumulateur 10F, pile de secours

Power supply autonomy

8 mois sans ensoleillement, plus de 2 ans en fonction de l'ensoleillement

Operating temperature

-40 à 65°C

Current consumption

0.20 mA (moyenne), 30 mA (pic) à 3.3 VDC

Backup power supply

pile Lithium 3V CR123 (non fournie)

Outdoor humidity

Units of measurement

% HR

Resolution

1%

Accuracy

±2%

Measuring range

1 à 100% RH

Measurement frequency

50 secondes à 1 minute

Measurement principle

Condensateur à film

Drift

inférieur à 0.25% par an

Rainfall

Units of measurement

mm ou pouces

Resolution

0.2 mm ou 0.01in

Accuracy

Pour les intensités de pluie jusqu'à 250 mm/h : ±4% du total ou ±0.2 mm au plus

Measurement frequency

20 à 24 secondes

Measurement principle

Auget basculant

Rain receiving surface

116 cm2

Rainfall rate

Units of measurement

mm/h ou in/h

Resolution

0.1 mm ou 0.01 in/h

Accuracy

±5% pour les intensités inférieures à 250 mm/h

Measuring range

0 à 762 mm/h

Measurement frequency

20 à 24 secondes

Dew point

Units of measurement

°C ou °F

Resolution

1

Accuracy

±1.5°C

Measuring range

-76° à 54°C

Measurement frequency

10 à 12 secondes

Measurement principle

L'équation de l'OMM à l'égard de la saturation de l'air humide sur l'eau
You might also like
10 other products in the same category: