Envoy8X Console

€269.00

(tax incl.)

(€224.17 VAT excl.)
Console de réception pour les stations météo Davis Instruments. Permet de recevoir jusqu'à 8 stations météo simultanément. Capacité de stockage importante.
Avec 32 fois plus de mémoire que la console Weather Envoy,  Envoy8X peut recevoir et enregistrer simultanément les données de huit stations d'émission,  quelle que soit la combinaison des capteurs : 8 Suites de capteurs intégrés ou 8 Stations d'humidité/températures du sol ou 8 anémomètres… Envoy8X peut même recevoir à la fois les données d'une station météo Vantage Pro 2 et d'une Vantage Vue.
EnvoyX8 peut permettre de créer de grosse base de données dans Microsoft Access®, MySQL®, ou Microsoft SQL Server®. L'intervalle d'enregistrement des données peut être réglé entre 10 secondes et 2 heures. Les données peuvent être facilement exportées vers un tableur comme Excel ®, ou à WeatherLink afin de profiter des graphiques et rapports statistiques de WeatherLink. Le datalogger WeatherLink n'est pas fourni avec le produit mais est nécessaire pour connecter la console à un ordinateur.
Des capteurs de température, d'humidité et un baromètre sont intégrés dans la console Envoy8X. Ces capteurs sont considérées comme "données intérieures".
Comprend un adaptateur d'alimentation secteur. Envoy8X peut aussi fonctionner en utilisant le kit panneau solaire (7707), ou sur trois piles AA.
Vie estimée des piles est de 1 à 4 mois en fonction de l'intervalle d'enregistrement.
Comparaison Console Weather Envoy et Envoy8X : Peut écouter jusqu'à 8 émetteurs Oui Oui Nombre maximum de Suite de capteurs intégrés (ISS) 1 8 Nombre maximum de kit de déport d'anémomètre 1 8 Nombre maximum de station humectation du feuillage / humidité et température du sol 1 8 Nombre maximum de stations de température 3 8 Nombre maximum de stations de température/humidité 2 8 Capacité de stockage : 1 ISS à intervalle 30 min 45 jours 5 ans Comment consulter les données ? Sur PC avec WeatherLink Sur PC, en utilisant le logiciel Envoy8X ou WeatherLink Intervalle d'enregistrement le plus fréquent possible 1 min 10 sec Fonctionne avec WeatherLinkIP et WeatherLink pour Mac Oui Non Bases de données extérieures supportées Aucune Access, MySQL, MS
SQL Server Export direct des données vers Excel Non Oui Retransmission à d'autres récepteurs Oui Non Compatible avec des répéteurs Oui Oui Résolution de lecture du vent : 0.1 mph (0.1 m/s) Non Oui
Configuration sytème requis pour le logiciel Envoy8X :
Système d'exploitation Windows XP, Vista, 7 ou 8.
32 Mo de mémoire (64 Mo recommandés)
MS Excel, MySQL et SQL Server ne sont pas inclus.
La console Envoy8X n'est pas compatible avec l'enregistreur WeatherLinkIP 6555.
Livré avec une notice en français.
Miscellaneous

Size

Weight
You might also like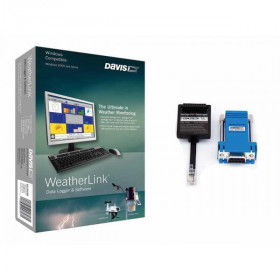 €189.00
(€157.50 VAT excl.)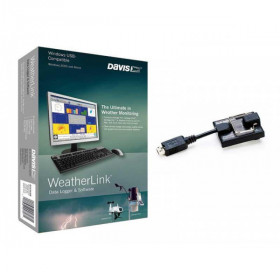 €179.00
(€149.17 VAT excl.)
8 other products in the same category:
No customer reviews for the moment.