New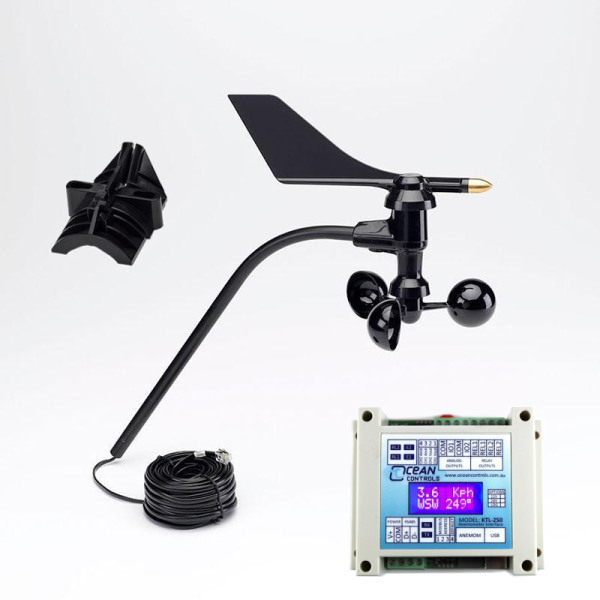 Anemometer with display and programmable alarms

€469.00

(tax incl.)

(€390.83 VAT excl.)
Instead of €489.00
The Alarnemo system is a combination of an anemometer and a transmitter with a display, anological and numerical outputs to read to wind speed and direction as well as relay outputs to trigger alarms or other systems.
The Alarnemo system combines the KTL-250 transmitter by Ocean Controls with the best-seller 6410 anemometer+wind vane combo by Davis Instruments. It can be used to monitor the wind speed and direction and trigger alarms when thresholds are exceeded, for environments where safety is at play: cranes, construction sites, industrial environments, etc.
The anemometer is very robust and has resisted cyclone winds in the past (up to 282km/h during hurricane Andrew in 1992). Nevertheless, it's also sensitive to very soft winds.
A 12m, 4-conductors cable is sold with the anemometer. If the length is not sufficient, additional extension cords of lengths 2.4m, 12m or 30m can be added.
The anemometer is sold with a base to install it on a mast of diameter 30 to 50mm.
The KTL-250 transmitter requires the use of the KTL-250 Configurator available here: KTL-250 Software for the initial configuration.
Miscellaneous

Alarms

2 relay outputs

Output

modbus, 0-5 V, 0-20 mA, 1-5 V, 4-20 mA

Wind

Units of measurement

km/h, mph, m/s, fps et noeuds

Resolution

0.1mph

Accuracy

±2 mph (2 kts, 3 km/h, 1 m/s) or ±5% (the highest of the two).

Measuring range

1 to 322 km/h

Measurement principle

Hall effect sensor

Wind direction

Units of measurement

°

Accuracy

±3°

Measurement principle

Wind vane and potentiometer
You might also like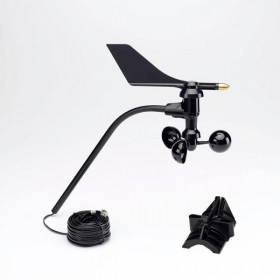 €229.00
(€190.83 VAT excl.)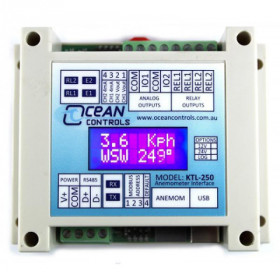 €260.00
(€216.67 VAT excl.)
10 other products in the same category: