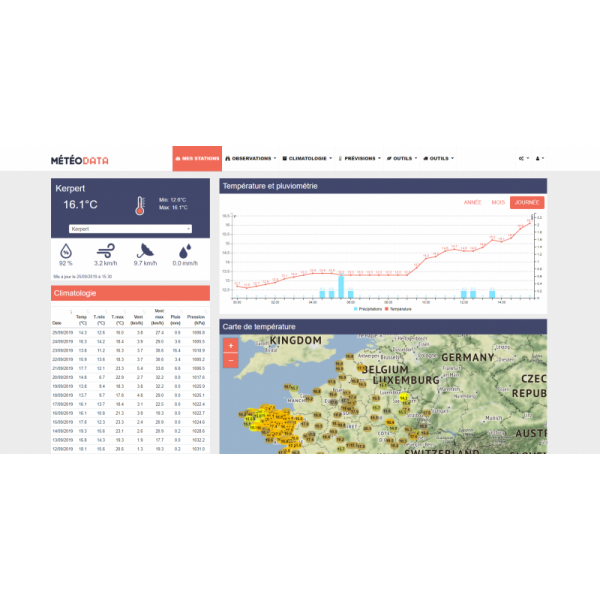 Registration to MétéoData for individuals

Delivery in 1 to 5 days in Europa
Platform for viewing weather data from your Davis Instruments weather station online. Free version.
Developed by our company, the MeteoData platform is aimed at owners of a Davis Instruments weather station who wish to consult their data simply online and wish to build up a stable and durable data archive. 
MeteoData is primarily a web application, but it is also the data storage and processing service that allows you to get the most out of your weather station, without the practical drawbacks.
The following visualisations and processing are possible on your data from the Meteodata web interface:
 Tables and graphs of the observation data of a station.
 Tables and graphs of the daily and monthly climatology of a station.
 Maps of observation data and climatology of open weather stations for any date.
 Maps of cumulative rainfall, evapotranspiration, etc. of OpenData stations between two dates.
 Comparison of observation data or climatology of several stations.
 Consultation of the weather forecasts established by our services.
The archiving of your weather data is unlimited in time. 
MétéoData offers you, in addition to your observation data, access to hourly and three-hourly weather forecasts up to 14 days. These weather forecasts are produced by our weather forecasting services and feed our public websites Météo Bretagne and Météo Concept.
MeteoData is compatible with Davis Instruments weather stations transmitting data to the www.weatherlink.com server using the WeatherLink Live console, WeatherLink IP datalogger, WeatherLink software for USB or SERIE dataloggers or the Vantage Connect 2G/3G standalone transmission module.
Note: For weatherlink.com users, there is no need to purchase a WeatherLink.com subscription to join MeteoData.
When your SERIE datalogger is connected to the internet via an Ethernet/RS-232 module or a 2G/3G modem, MeteoData is also able to connect directly to your weather station to download data, configure it remotely, reset it automatically, etc.
For developers, the MétéoData service provides an API (Application Programming Interface) to allow you to feed your website or other application.
More details on www.meteodata.fr
You might also like
€240.00
(€200.00 VAT excl.)
10 other products in the same category: