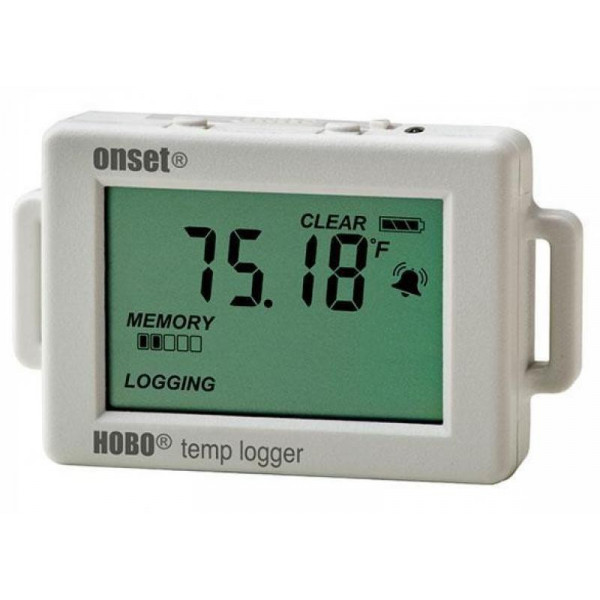 Temperature datalogger with display

€168.60

(tax incl.)

(€140.50 VAT excl.)
The HOBO® UX100-001 data logger records the ambient temperature (indoor environment) with its internal sensor.
The HOBO® UX100-001 logger allows you to record the ambient temperature with its internal sensor. 
Using the HOBOWare software, it is easy to set high or low alarms for recording campaigns. It is also possible to set up bursts of measurements (faster interval) depending on certain conditions.
The device also allows the calculation of certain statistics (minimum, maximum, average or standard deviation). The small LCD screen incorporated in the device allows the temperature, the campaign status, the battery level and the memory used between two discharges to be displayed.
Miscellaneous

Power supply

1 x 3 V CR2032 lithium battery

Size

3.66 x 5.94 x 1.52 cm

Weight

23 g

Power supply autonomy

1 year, with recording interval of 1 minute and sampling interval of more than 15 seconds

Operating temperature

Recording : -20° to 70°C; Reading: 0 to 50°C

Protection

IP50

Display

visible: 0° to 50°C (32° to 122°F), the LCD may react slowly or not display anything if the temperature is outside this range.

Memory

128 KB (84 650 measurements, maximum)

Recording interval

1 second to 18 hours, 12 minutes, 15 seconds

Temperature

Measure

Temperature

Resolution

0.024°C at 25°C

Accuracy

±0.21°C from 0°C to 50°C

Measuring range

-20°C to 70°C

Drift

less than 0.1°C per year

Response time

8 minutes in air at 1 m/s
You might also like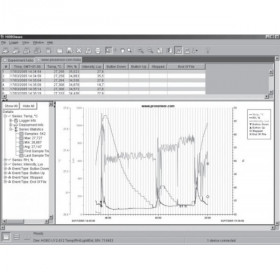 €129.00
(€107.50 VAT excl.)
10 other products in the same category: