New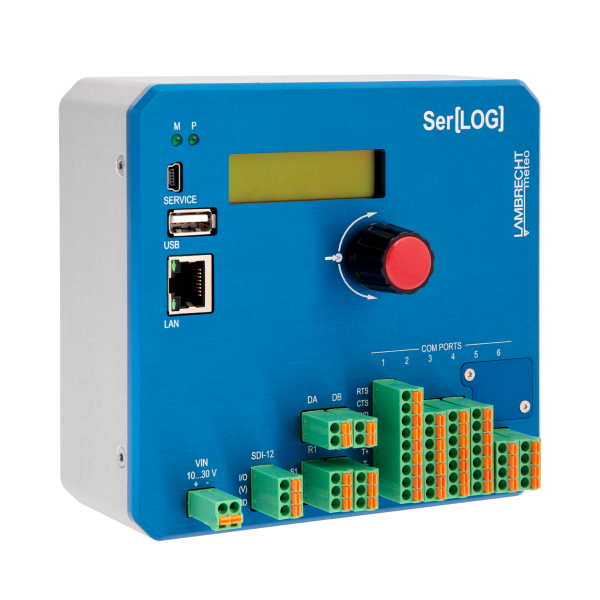 Datalogger Ser[LOG]

The Ser[LOG] datalogger allows you to collect, store, visualize and export data from your sensors. It has 6 serial inputs and an Ethernet plug, and can be extended.
The Ser[LOG] datalogger can be used to log data from sensors over SDI-12, Modbus RTU RS485, Modbus TCP or NMEA protocols, as well a few proprietary protocols of Lambrecht sensors. Contrarily to the Ser[LOG]Plus datalogger, it doesn't natively have an analog-digital converter and as such doesn't expose analog inputs.
The Ser[LOG] has 6 physical serial inputs, as well as two status (On/Off) inputs and two bistable relay outputs.
The Ser[LOG] can be used on a local network using its Ethernet plug, on a cell network (2G/3G/4G) by setting up a model on one of its serial interface or in a non-connected fashion, by plugging a USB drive or a Bluetooth dongle in the host USB plug to export the data. The small LCD screen and the push-turn button on the front panel allow for limited manipulation and configuration. More servicing is permitted by the use of a terminal interface accessible via the device USB plug. The host USB port can also be used to upload firmware or configuration updates.
The Ser[LOG] can be extended by AnDiMod modules, with an analog-digital converter and versatile analog inputs. Up to three of such modules can be daisy-chained on the Ser[LOG], The Ser[LOG]Plus datalogger is actually a Ser[LOG] with an embedded AnDiMod in the same housing. Thus, it can be extended by only two AnDiMod additional modules.
1 other product in the same category: