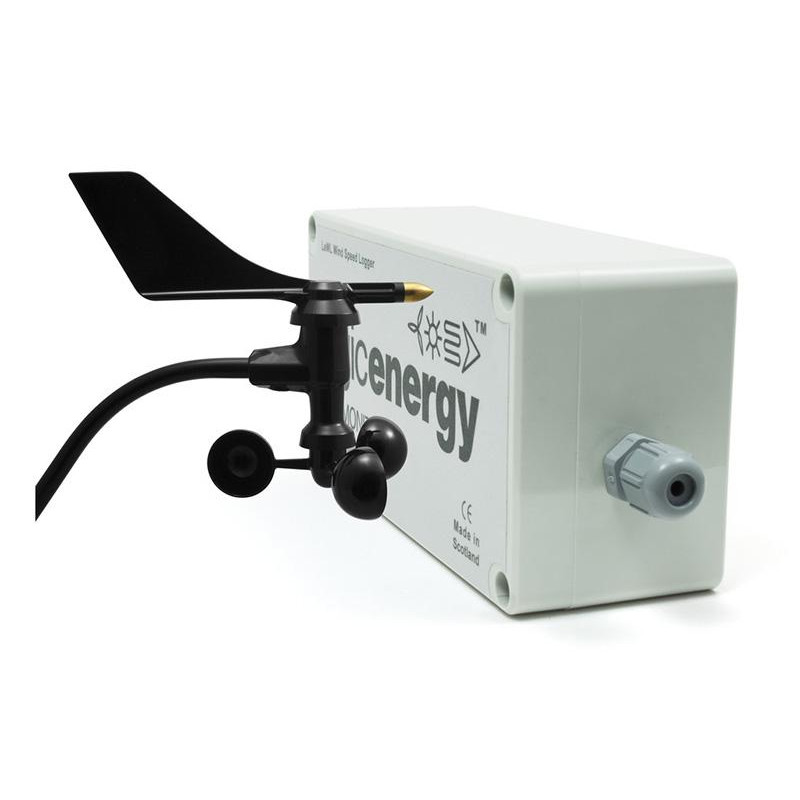 Wind data logger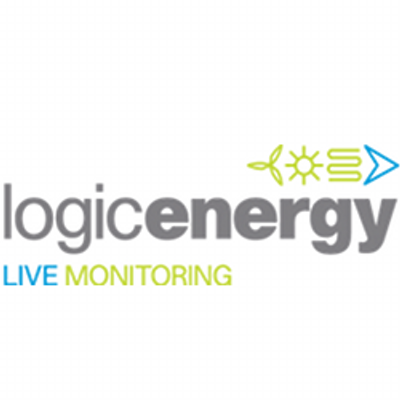 €789.00

(tax incl.)

(€657.50 VAT excl.)
Wind speed and direction recorder with a power supply of several months. Data recording on SD card every minute or ten minutes. 
The Windlogger is a stand-alone wind data logger specialising in wind measurements for domestic wind turbine installations (max height 13 metres). It is possible to connect 2 anemometers and a wind vane simultaneously, allowing the user to obtain critical site information such as shear and efficiency by measuring the wind at different heights. In some cases a difference of 5 metres can result in a loss of 500 kWh per month from the same turbine.
Robust, reliable and autonomous
The Windlogger is waterproof, robust and works autonomously with 2 alkaline batteries (not included). Data is stored on an industrial grade SD card (supplied). The configuration of the recorder is done through a COM port (RS-232) or by inserting the SD card in a reader on a computer. The recording interval is adjustable from 1 minute to 10 minutes for wind average, standard deviation for wind speed and gusts.
The recorder is compatible with the Davis Instruments 6410 anemometer (supplied) and the LCJ SONIC-ANEMO-DZP ultrasonic vane anemometer.
Second anemometer and optional thermometer
Windlogger is equipped with three inputs: two inputs for anemometers and one input for a wind vane. The Davis Instruments anemometer and wind vane unit is easily connected via the RJ11 connector.
It is therefore possible to add a second anemometer and wind vane as an option. Only the anemometer will be used. It is also necessary to strip the wires and connect the wires used by the anemometer to the correct connectors specified in the manual.
Data in CSV format
The data is time-stamped and available in monthly files in CSV format. The data can be easily processed in your favourite spreadsheet program. Simply disconnect the SD card and connect it to your computer to start evaluating the data. The following variables are recorded: 
Average wind speed (x2 optional)
Gust wind speed (x2 optional)
Standard deviation (standard deviation - turbulence) (x2 optional)
Wind direction
Temperature (optional)
Battery status (Voltage)
Battery life is up to 1 year when recording data every minute or up to 3 years with a 10 minute recording interval. 
FAQs, manuals and video tutorials are available on the brand's website: https://www.windlogger.com/pages/windlogger-tools
Miscellaneous

Power supply

2 piles Alcalines LR14 (non fournies)

Size

160x80x55mm

Weight

450g

Operating temperature

-40°C à +70°C

Protection

IP65
2 other products in the same category: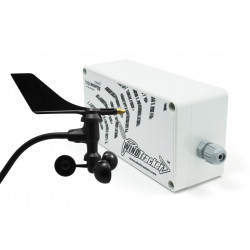 €579.00
(€482.50 VAT excl.)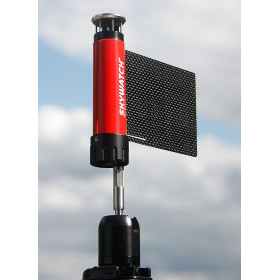 €709.00
(€590.83 VAT excl.)