Peet Bros Ultimeter 100 Weather Station

€249.00

(tax incl.)

(€207.50 VAT excl.)
For highly accurate wind measurement. Displays instantaneous wind and extremes. Also measures outdoor temperature.
The Peet Bros Ultimeter 100 weather station is optimised for real-time wind measurement. The anemometer and console use a 0.5 second measuring step. With such a measuring step you will be able to measure a maximum number of wind gusts, the threshold for the cups is 2.4 km/h (minimum wind speed to turn the cups).
The Ultimeter 100 station is specialised in wind measurement but can also measure
Wind speed & direction
Outdoor Temperature (Probe supplied, standardised shelter optional)
Wind Chill
Precipitation (optional rain gauge)
Indoor temperature (optional)
Alarms can be set up on the console, a computer connection (RS-232 serial port) is available (connection cable optional). The console is compatible with Weather Display, MeteoHub, MeteoBridge, Virtual Weather Station, WeeWx...
An optional large configurable display panel (Weather Picture) is available for displaying weather data in public areas, schools, etc. Data transmission to the Weather Picture is via cable, please consult us for more information.
The Peet Bros Ultimeter 2100 weather station is delivered with a display console (LCD screen), an anemometer/wind vane (equipped with 12m of cable), an outdoor temperature sensor (stainless steel sensor equipped with 8m of cable), a connection box (RJ11 + 2.5m cable), an AC adaptor to power the console, a wall bracket (Console) and a user manual.
There are two possible models for the Anemometer/Windvane: PRO or Standard. The PRO version has larger cups and greater sensitivity in light winds. The Standard version, on the other hand, is better suited to strong winds. We recommend the standard version for seaside or Rhone valley locations.
The anemometer/wind vane is available as an option in the marine version (recommended for the seaside).
The console stores the extremes (Maxi & mini) and is compatible with the APRS (optional cable). The Peet Bros range is guaranteed (parts & labour) for 1 year.
Miscellaneous

Warranty

1 year

Wind

Composition

Polycarbonate with UV treatment, Acetal, Stainless steel

Resolution

0.1 km/h

Accuracy

± 3.2 km/h or ± 5%

Measuring range

0.3 to 257 km/h

Measurement frequency

0.5 seconds

Trigger threshold

2.4 km/h

Wiring

12 meters of 4-conductor, unshielded cable with RJ11 plug

Measurement principle

anemometer with 3 cups, magnetic contact (ILS)

Cup diameter

6,6 cm

Wind direction

Resolution

1° ; ± 5%

Size

32.8 x 8.9 x 0.5 cm

Measurement principle

Magnetic sensor (ILS)

Outside temperature

Composition

Stainless steel (Inox)

Resolution

0.1

Accuracy

± 0.5°C

Measuring range

-48°C to 66°C

Wiring

8 meters of cable, RJ11 male connector

Measurement principle

Precision thermistor

Windchill

Resolution

0.1

Accuracy

± 0.5°C

Measurement principle

Calculation of the US National Weather Service Windchill Index

Receiving console

Power supply

12V DC power adapter

Interface

RS232 on RJ12 connector, UART, 2400 or 19200 baud, 8-N-1

Backup power supply

9-volt battery

Display

LCD, not backlit

Keyboard

12 non-illuminated keys
2 other products in the same category: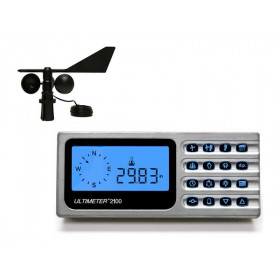 €429.00
(€357.50 VAT excl.)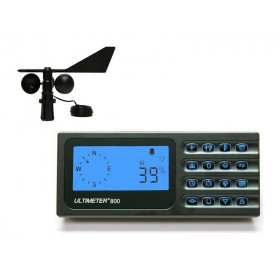 €319.00
(€265.83 VAT excl.)
No customer reviews for the moment.